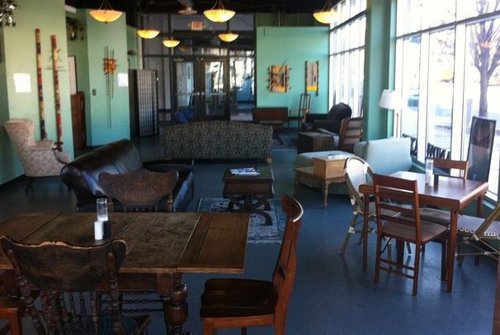 Surprised and delighted to find live music and cafe life, just past the D.C. state line and sitting next to an art gallery, in Mount Rainier, Maryland. Seriously. I am not imagining this.
When I recently learned that the
Urban Eats Arts and Music Cafe
has just celebrated two years in business, at
3311 Rhode Island Avenue
(Mount Rainier, MD), ..I was thrilled! As I'm always looking for places like this, away from the bustle of Downtown Washington and Capitol Hill, and rarely finding them, ..clearly, I have been missing out.
There's a cafe area, with charming, little tables for two or three, and a couple of larger, roadhouse tables for small meetings, over coffee. There's the prerequisite, cozy, little lounge area - a coffeehouse standard - with cushy sofas and loveseats, ..where a good buddy of mine reads his comics, while locals soak up the FREE WI-FI on their laptops. The lounge area gives you a front-row seat, when there's live entertainment, ..and, other times, a great place to meet your next, new best friend! It's a mix of small town diner and East Village coffeehouse that makes you feel instantly
at-home,
no matter your mood.
When I told
Urban Eats
owner,
Annette Martin,
a Southwesterner from Arizona, how much I loved the Bohemian atmosphere, she totally got it...another satisfied customer.
Open mike 'nites' are on Wednesday, and there's a special
'Ladies Open Mike',
every third Thursday of the month. There is art, created by local artists, on the walls. I have blown by on a Wednesday night, and I can tell you that it's quite a scene! Live music from the cafe floats out onto the quiet streets of Mount Rainier. Older couples enjoying each other, over drinks and quiet conversation, with younger couples and single ladies drifting in and out, onto the sidewalk.
Love that I can always find a nearby parking space, too. Close enough to stumble out of my car, right onto a sofa, inside! You will love that, ..and don't count on finding
that,
in town.
You will love the coffee, and the New Haven pizza is $8.95 ..and spectacular.
There just is NO place, like
Urban Eats Arts and Music Cafe
, presently in these hills. I think they might be coming, ..with the
Department of Homeland Security
opening in Congress Heights,
Skyland Town Centre
coming to the western edge of Hillcrest and more development to the northeast, in Minnesota-Benning, ..and farther out, at Capital Gateway. Being sandwiched between all of this urban renewal, I think the Southeast Hills will be getting a few 'towny' pleasures, sometime soon.
Until that happens, ..get out
here.
Mel Dyer